Newsletter Humanities April 2022 (Click Here)
Newsletter Applied Science June 2023 (Click Here)
The Institute of Humanities and Applied Sciences is to provide a solid training over fundamental social society as well as the culture and diversity of different communities existing in the world.
The Institute of Humanities and Applied Sciences intends to integrate current resource, enhance teaching quality, encourage academic research and exchange and promote industry-academia cooperation and service; moreover, new departments will be set up in compliance with the developing target and features. The Institute of Humanities and Applied Sciences hopes to nurture the talents who can seek the balance between science and humanity and integrate theory and practice
Objective
Promote the education of humanities, mathematics, science, and general education.
Strengthen academic research and academic exchange.
Improve industry-academia cooperation and community service.
Mission
Nurture professional talents in the fields of humanities and applied sciences.
Develop multi-cultural aspects and establish solid academic foundations.
Promote the industry-academy cooperation and improve the practical abilities of professors and students.
Strengthen the international academic exchange, broaden the international horizons and promote the research atmosphere.
| | | | | |
| --- | --- | --- | --- | --- |
| COURSE | DURATION | SEATS | SPECIALIZATION | ELIGIBILITY |
| Ph.D. | 2.5-5 Yrs. | - | - | P.G. with 55% in relevant stream. |
| M.Phil. | 1.5 Yrs. | - | - | PG. with 55% in relevant stream. |
| M.A. | 2 Yrs. | 15 | - | Graduate in Any Discipline |
| B.A. | 3 Yrs. | 30 | - | 10+2 in Any Stream |
| MSW | 1 Yrs. | 30 | - | BSW |
| M.Sc. | 2 Yrs. | 15 | - | Graduate in Science Discipline |
| B.Sc. | 3 Yrs. | 30 | - | 10+2 in Science Stream |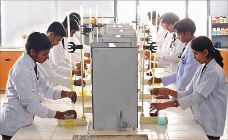 Applied Sciences
Dr. Rajeev Kr. Singh


Ph.D, M.Sc. (Physics)

Professor (Physics)

Dr. Rajesh Katare


M.Sc., Ph.D.

Associate Professor (Physics)

Dr. Afaq Ahmed

M.Sc., Ph.D.

Associate Professor (Maths)

Dr. Ajay Gupta


Ph.D., M.Phil, M.A

Associate Professor (Maths)

Dr. Gajendra Kumar


Ph.D., M.Ed, M.A

Associate Professor (Chemistry)

Dr. Rekha Israni


M.Sc., Ph.D.

Associate Professor (Chemistry)

Dr. Rajnee Tripathi


M.Sc., M.Phill., Ph.D.

Associate Professor (Maths)

Dr. Poornima Srivastava


Ph.D, M.Sc

Professor (Bio-Technology)

Dr. Ashit Dutta


Ph.D, M.Phill, M.Sc

Professor (Environment)

Mr. Gyan Shekhar


Ph.D*, M.Sc

Assistant Professor (Maths)

Er. Manoj Kumar

Ph.D*, M.Tech, M.Sc

Assistant Professor (Maths)

Ms. Karuna Sharma


M.Sc

Assistant Professor (Physics)

Mrs. Kripa Sharma


M.Sc, Ph.D*

Assistant Professor (Chemistry)

Mr. Bhanu Mathur


Ph.D*, M.Sc

Assistant Professor (Physics)

Mr. Rahul Jangid


B.Sc., M.Sc (Chemistry)

Lab Technician (Chemistry)

Ms. Vidhya Saini


Ph.D, M.A

Assistant Professor (Chemistry)
Humanities
Prof. L. C. Verma

M.A., Ph.D.

Professor (Physics)

Dr. Dinesh Mandot


M.Sc., Ph.D.

Professor (Physics)

Dr. Sunita Sinha

M.A., M.Phill., Ph.D.

Professor (History)

Dr. T. K. Mathur


Ph.D., M.Ed., M.A

Professor (History)

Dr. Shashi Bala Singh


Ph.D., M.A

Professor (Political Science)

Dr. Indra Mathur


M.Sc., Ph.D.

Professor (Home Science)

Dr. Anupama Verma


M.A., Ph.D.

Professor (English)

Dr. Kartikey Gaur


Ph.D, M.Sc

Associate Professor (English)

Dr. Eti Sharma


Ph.D, M.A.

Assistant Professor (English)

Dr. Suresh Kumar


Ph.D., M.Phil., M.A.

Assistant Professor (English)

Dr. Chaitanya

Ph.D, M.Phil., M.A.

Assistant Professor (English)

Dr. Shakir Ali Siddiqui


M.A., M.Phil., Ph.D.

Assistant Professor (Urdu)

Dr. Ahsan Ul-Haq


M.A., Ph.D

Associate Professor (Urdu)

Dr. Gh. Mohd. Lone


Ph.D., M.A.

Associate Professor (Urdu)

Dr. Shivani Sharma


M.A., Ph.D.

Professor (Hindi)

Dr. C. M. Rajoriya


M.A., M.Phill., M.Lib., Ph.D.

Associate Professor (Geography)
Dr. Nidhi Singh


M.A., Ph.D

Assistant Professor (Sociology)

Dr. Neetee Mehta


M.A., Ph.D.

Assistant Professor (Psychology)

Mr. Mayank Saxena

M.A., B.Ed.

Lecturer (English)

Mr. Shawkhet Ahmed Dar


M.Sc., M.Ed., M.Phill

Assistant Professor (Urdu)

Ms. Neha Kapoor


M.A., Ph.D.

Assistant Professor (English)

Ms. Aabshar David


B.A, M.A., B.Ed.*

Assistant Professor (English)